As an innovation-focused medical device design partner, we understand the challenges of creating successful products. But how is it possible to achieve excellence in the medical sector?
Let's discover together the four pillars of the philosophy that we carry out at Creanova to make your products an excellence.
Let's see them together.
What is the key challenge for a successful product?
Designing a successful device comes with its fair share of challenges, especially in an industry as complex as the medical one. However, we can identify four key challenges that designers always face:
1 User experience
User experience (UX) is fundamental in device design. A device must be intuitive and easy to use for the intended audience and with the user's needs in mind.
In the medical sector this is made even more difficult as there are often two principle types of users, those who undergo (patient) and those who administer the therapy (doctor, nurse, patient).
Designers conduct user research to understand their needs and preferences.

This research helps enrich the design process, we pay special attention to creating an easy and intuitive device that meets the needs of users. By prioritizing user experience, we can create a device that exceeds user expectations. Finally, to complete the user experience it is also important to pay attention to the user interface (UI) and make sure that it is easy and intuitive.

An excellent example is the AMPS Treatment project for Gondola; in this case we have studied a specific and extremely simplified user experience for users with motor and cognitive difficulties. The result is an interface area that contains all the functions such as: switching on/off and resetting therapy, all accompanied by luminous feedback indicating the status of the device.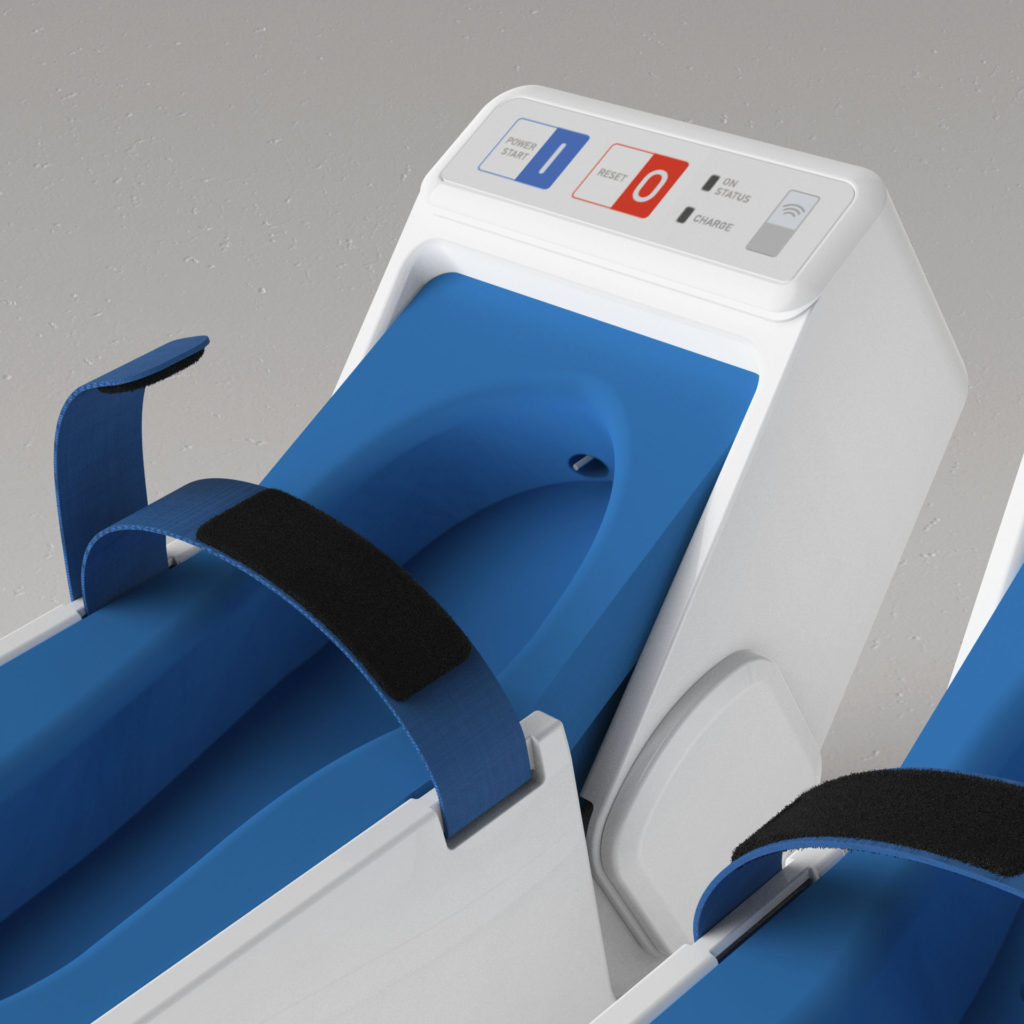 2 The technical challenges
Technical limitations can also present a challenge in medical device design. Designers must develop a device that meets performance and functionality requirements but must respect customer constraints such as size and cost etcc. this requires creativity and a willingness think out of the box.

As far as aesthetics is concerned, in this case the limits of cleanability and resistance to chemical agents impose important restrictions, but it is the designer's job to find creative solutions to offer a pleasant aesthetic in line with current trends.

Successful device designs often incorporate new technologies or unique features that set them apart from the competition.

This was the case for the Gondola project; in this case the challenge was to design an adjustment system that would allow for easy adjustment of the medical device for each patient and the achievement of maximum precision to ensure effective treatment. A further challenge was to provide this symmetrical system for two asymmetrical devices with the aim of reducing production costs.
3 Market competition
Market competition is a challenge that is always significant. In a crowded marketplace, standing out requires offering unique features and value propositions. Devices must always be more performing, technological, less expensive and aesthetically appealing.
At Creanova, designers conduct market research to understand the competitors' products and identify opportunities to differentiate the product by offering unique features that set it apart from the competition.
4 Safety and reliability
Safety and reliability are paramount in the design of medical devices and main focus of the regulations and of the medical device industry like MDR & FDA and standards like ISO13485, IEC-60601, to name a few. Ensuring that the device operates safely and reliably under various conditions is a significant challenge.
In fact, patient and operator safety is a priority for all of our project.
During medical device design, the potential hazards must be considered and it must be ensured that the device meets safety standards. For this reason, numerous tests are carried out which are essential to ensure that the device performs as intended under all stress conditions. In particular, the tests performed include both functional tests and safety tests, such as impact resistance, fire safety and electrical safety.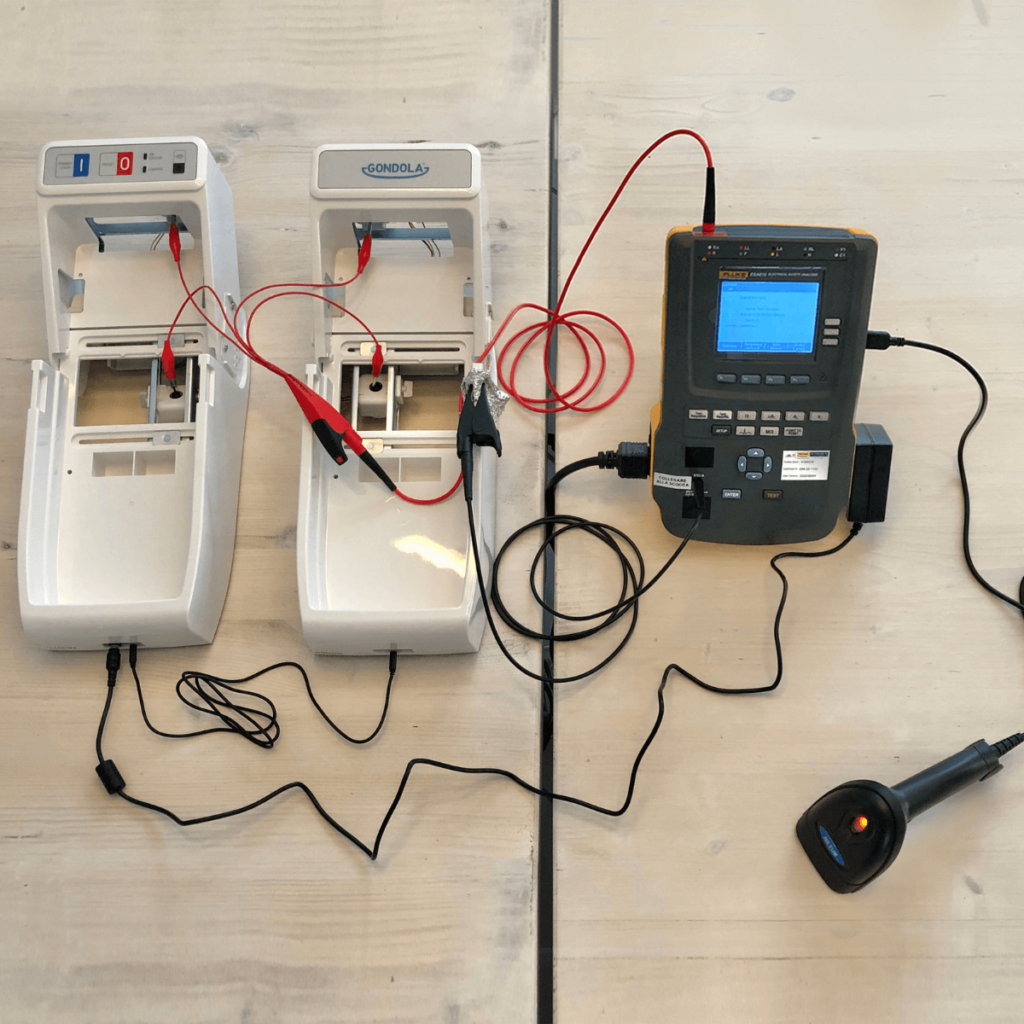 In conclusion, designing and developing a successful (electro-)medical device is a complex process that involves overcoming several key challenges. By prioritizing user experience, bypassing technical limitations, standing out in a crowded market, and ensuring safety and reliability, you can assure your medical devices meet user needs and exceed their expectations maximizing your success.
Case Study: Gondola, patient needs and intuitiveness, the keys to success!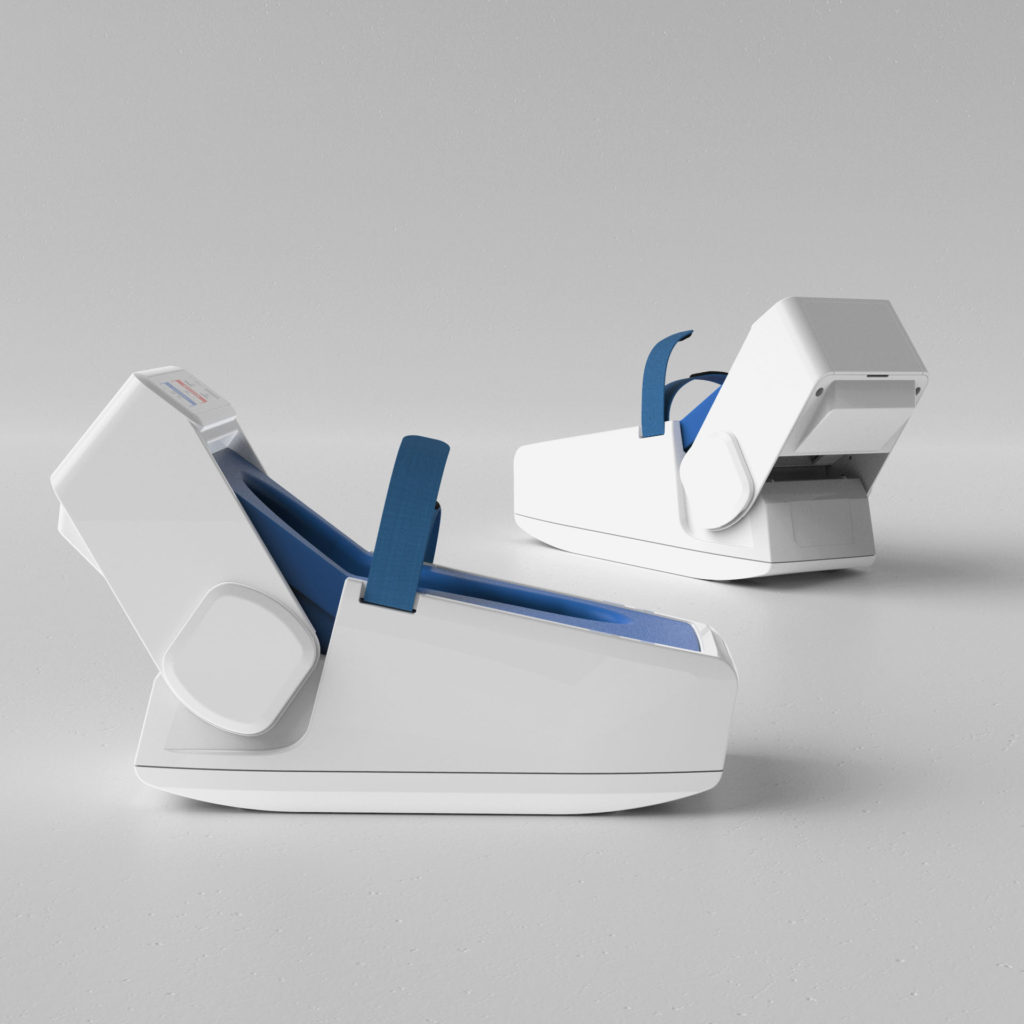 Gondola Medical Technologies is a Swiss start-up that stands out for its exclusive non-intrusive technology called AMPS (Automated Mechanical Peripheral Stimulation), which treats walking and balance disorders due to neurological diseases, such as Parkinson's disease and stroke.

Creanova supported Gondola with research and development, design and engineering activities, with particular attention to usability and took care of the contract manufacturing of these medical devices under ISO13485 certification.
The design phase was preceded by a user analysis and study phase with the aim of developing an innovative medical solution.
The best usability was achieved through the analysis of:
• Patient user experience during setup and treatment, particular attention was paid to motor and cognitive limitations
• Healthcare professional experience through the following features: speed/ease of configuration, management, cleaning
• Suitability for a wide range of percentiles: from 1st paediatric band to foot size 47 (EU) and for patients with joint deformations
As far as the interface of the healthcare device is concerned, the user path has been designed to make it as simple as possible to use and we made it icons and colors that make operations intuitive.

The functional prototypes were used to verify usability and functionality with the customer and to submit the medical devices to the Notified Body and guarantee certifications in accordance with European and FDA regulations.
These validation products have been subjected to various tests, aimed at assigning medical certification to the device and testing all safety requirements:
• Drop test
• IP test
• Biocompatibility test
• Electromagnetic compatibility
• Flammability tests

In conclusion, a careful study of the requirements has led the design to work really close to the needs of the users. The interface and the simplified design enhance and suggest the functions which, thanks to the reliability and the innovative therapy, are able to delay the recovery of neurological diseases. This mix has made the product an innovative and successful medical device design, so much so that it has been recognized with the Good Design Award.
Do you want to know more about the project for Gondola? Check the complete case study here:
https://creanova.com/amps-treatment_big/?lang=it

Ready to take your next medical device to success?
At Creanova, we understand the challenges of creating successful products and we're here to help you overcome them.
We work together to prioritize:
an intuitive user experience
an innovation beyond the technical limits
differentiate ourselves from the competition
ensure safety and reliability
Contact us today to find out how we can help make your product an excellence in the medical sector!